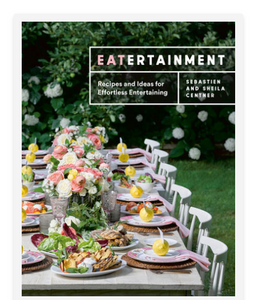 Everything you need to make everyday entertaining a flawless reality!
There are few moments in life as special as gathering around a table with friends and family. But for many people, the idea of planning a dinner party can bring on stress. There's the menu, the seating plan, the drinks . . . it can lead a would-be-host to miss the point altogether: enjoying time with your guests. As the owners of a leading event management and catering company, Sebastien and Sheila Centner know that entertaining can be overwhelming. With their first book, 
Eatertainment
, they
 share their decades of expertise to make entertaining at home as simple as can be.
Not sure where to start? Don't worry—Seb and Sheila offer instructions on everything from setting the table, to picking flowers for your center-piece, to even planning an easy loot bag for your guests to take home. The Centners understand that cost and time are often the most significant barriers to hosting, so they offer practical tips and tricks regardless of your prep time, availability, or budget.
Boasting more than 140 recipes, 
Eatertainment
 includes thoughtfully-assembled menus based on tried and true recipes that anyone can cook. A memorable celebration requires a memorable meal, and no one knows this better than Seb and Sheila. In 
Eatertainment
, the chapters are organized around 12 different events you can plan, and divided by 3 difficulty levels: Simple Entertaining to start, A Little More Effort when you're ready for the next challenge, and Pulling Out All the Stops for the experts. You can start off your entertaining journey with an easy but impressive Cocktail Party, then graduate to the classic family favourite of a Roast Chicken Dinner, and tackle a Seafood Extravaganza for a special occasion.