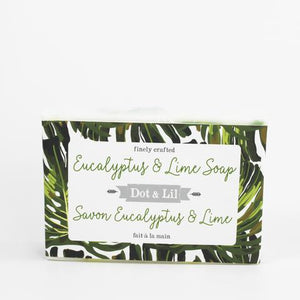 Dot & Lil's Eucalyptus & Lime soap is fresh and clean with a citrus note and a twist of crisp rind. The deep camphorous and menthol notes of eucalyptus are balanced by the lightness of the fresh lime.
Dot & Lil soap is made from an all-vegetable oil and glycerin base. This soap is entirely vegan and scented with essential oils. Like all Dot & Lil soaps, it has plenty of lather and lasts a long time! Each soap weighs 128 g/ 4.5 oz.
Ingredients: soap base [glycerin, sodium stearate, sodium myristate, cocos nucifera oil (coconut oil), olea europaea (olive oil), limnanthes alba seed oil (meadowfoam oil), titanium dioxide], parfum (house blend of essential oils), oxides.
Made by hand in Canada
Dot & Lil