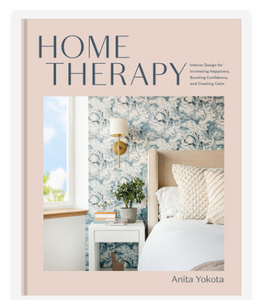 Self-help meets interior design in this holistic, gorgeously photographed guide that "thoughtfully and beautifully unpacks the tools and ideas to support mental wellness at home through design and styling" (Justina Blakeney, founder of Jungalow).

Licensed therapist turned interior designer Anita Yokota knows that our surroundings are more than just a reflection of our personal style; how our homes are decorated and arranged can have a monumental impact on our quality of life. The Home Therapy method: her signature system for creating wellness from the inside out by setting up your spaces to nurture your mind, body, and spirit.
 
Instead of basing decorating decisions on trends and fads, Home Therapy's unique, therapy-informed approach focuses equally on mental health and design and presents the psychology behind making your home intentional. From choosing the right lighting, furniture, and paint colour to building boundaries and forming long-term organizational goals, Anita guides you through creating spaces that bring happiness and balance to the sanctuary we call home.