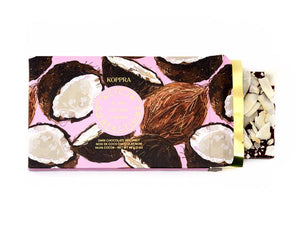 Postcard Chocolate Bar. Handmade chocolate, packaged in colourful packaging that you can send in the mail! 
Koppra is a coconut 54.5% dark chocolate bar. Made with smooth dark chocolate and organic coconut shavings that taste just like the fresh rind of a coconut.
Vegan friendly, gluten-free friendly.
INGREDIENTS: 54.5% DARK CHOCOLATE (UNSWEETENED CHOCOLATE, SUGAR, COCOA BUTTER, SOY LECITHIN (AN EMULSIFIER), NATURAL VANILLA FLAVOUR), ORGANIC COCONUT.
Made by hand in Canada.
Alicja Confections.