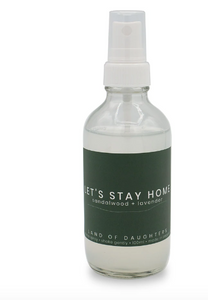 Aroma sprays transform any room into a vibrant sanctuary. Their use is limited only to your imagination. Try in your closet, drawers, curtains or on dryer sheets. 
An effortless blend of woody sandalwood and soft lavender, Let's Stay Home is a modern classic that's ready to be your home's signature scent. 
Notes: sandalwood, lavender
Type: Soft, botanical
Shake gently before use.
100 mls

Ingredients: witch hazel, phthalate + paraben free fragrance oils, propylene glycol, distilled water
Handmade in Canada
Land of Daughters