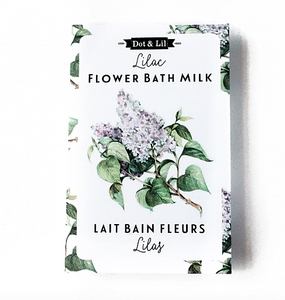 Dot & Lil's best-selling milk bath has luxuriously moisturizing whole milk powder, with ground oatmeal and baking soda to soften the water and your skin. This super-rich and soothing formula turns the bath water milky, white and opaque and gives you a Cleopatra-like bathing experience. Leaves skin sweetly scented and soft.

Dot & Lil Lilac scent is true to a real lilac, not overpowering or powdery but fresh and crisp. Smells exactly like the flower. This lilac scent just screams springtime, and lilac is the true queen of spring florals! 
Each pack contains enough milk bath for 1-2 botanical baths surrounded by flower petals.
Ingredients: sodium bicarbonate (baking soda), lac powder (milk powder), avena sativa (oatmeal), zea mays starch (corn starch), parfum, malva sylvestris (mallow flower).
Made by hand in Canada.
Dot & Lil