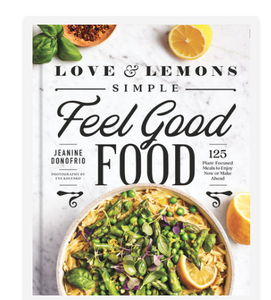 Love and Lemons is back with make-now and make-ahead vegetarian recipes for every kind of cook.

Over the years, Jeanine Donofrio's wildly popular Love and Lemons recipes and her bestselling books have become the go-to gold standard for incredibly simple, deeply flavourful, and nourishing vegetarian meals. From the feedback she's gotten from her enormously engaged online community, she's sussed out that her fans all love her fast, veggie-first approach to recipes that fit into their busy lives and make them feel good. But they also fall into two camps of home cooks: those who keep a folder of go-to recipes they can easily make right now, and those who like to plan ahead.
Each chapter—Breakfasts, Salads, Soups and Stews, Dinners, and Desserts—is divided into two parts: one for recipes you can make with minimal prep and ingredients and the second for food you can prepare ahead of time, like the perfect lasagna (with ideas for changing up the layers) and packable salads.