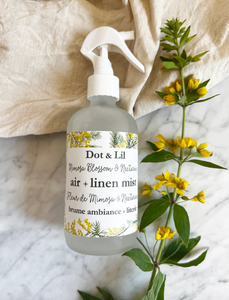 Spray into the air to scent the room, or onto linens and fabrics as a refresher
spray. The 8 oz / 237 ml frosted glass bottle has a sprayer that can be locked, making it easy for travel.

What are mimosa blossoms? Mimosas are a flowering tree, Acacia Dealbata. The flowers are delicate, round puffball-like clusters of vibrant yellow. They typically bloom in late spring and early summer, making them a happy announcement that warm weather has arrived! Mimosa flowers are often used as a symbol of resilience, as they can withstand harsh conditions and still bloom beautifully.
Made in Canada
Dot & Lil