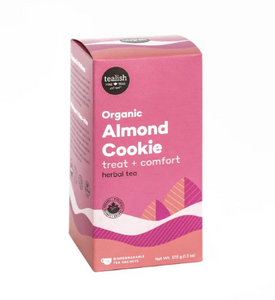 Treat & Comfort. Smooth, sweet, and totally delicious, Almond Cookie is the ultimate treat in a cup. Brewing up a luscious pink hue, this blend has comforting notes of apple, almond and cinnamon. Try it as a latte for an extra special treat.

Box contains 15 biodegradable pyramid tea bags.
CAFFEINE FREE 
INGREDIENTS: organic apple, organic hibiscus, organic cinnamon, organic natural flavours.
Tealish Fine Teas