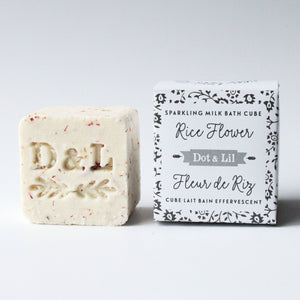 Add cube to bath water and watch it fizz, dispersing a rich moisturizing blend of milk and real flower petals. Rice Flower is sweet, fresh and soft. Light and delicate, with a base of subtle, creamy vanilla and coconut. What are rice flowers? Rice flowers are small perfumed buds that grow on the Aglaia Odorata, or Chinese Perfume Tree.
95g
Ingredients: sodium bicarbonate (baking soda), citric acid, lac powder (whole milk powder), prunus amygdalus dulcis oil (sweet almond oil), polysorbate 80 (emulsifier), parfum, carthamus tinctorius (safflower petals).
Made by hand in Canada.
Dot & Lil