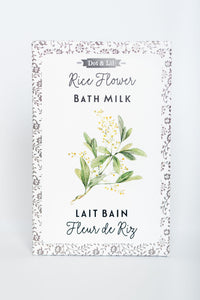 Riceflower is sweet, light, and delicate, with a base of subtle, creamy vanilla and coconut.
Dot & Lil's best-selling milk bath has luxuriously moisturizing whole milk powder, with ground oatmeal and baking soda to soften the water and your skin. This super-rich and soothing formula turns the bath water milky, white and opaque and gives you a Cleopatra-like bathing experience. Leaves skin sweetly scented and soft.
75g. Contain enough milk bath for 1-2
Ingredients: sodium bicarbonate (baking soda), lac powder (milk powder), avena sativa (oatmeal), zea mays starch (corn starch), parfum, matricaria chamomilla (chamomile flowers).
Made by hand in Canada
Dot & Lil