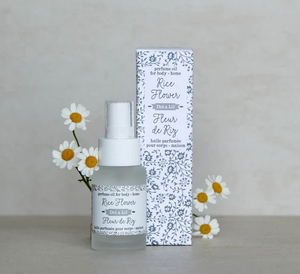 Sweet, fresh and soft with a hint of ozone. Light and delicate blossom scent with a base of subtle, creamy vanilla and coconut. What are rice flowers? Rice flowers are small perfumed buds that grow on the Aglaia Odorata, or Chinese Perfume Tree.
Dot & Lil perfumes spray on as a light oil, are absorbed very quickly and leave your skin silky smooth with long-lasting scent. They are meant for use as a body perfume, sprayed on your pulse points, but can also be used in an oil diffuser as a home fragrance. Perfume comes packaged in a frosted glass bottle and pretty gift box.
35 ml/1.2 oz
Ingredients: Caprylic/Capric Triglyceride (fractionated coconut oil), parfum.