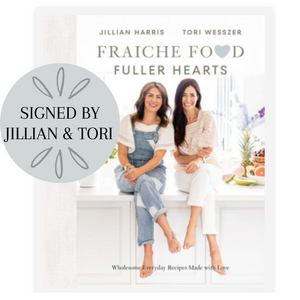 SIGNED by Jillian Harris & Tori Wesszer! Limited copies available. 
From beloved celebrity influencers and #1 bestselling authors, Jillian Harris and Tori Wesszer, over 135 all-day joyful recipes to help you whip up feel-good meals.

Inspired by cozy memories of those sweet, simple days enjoying wholesome meals together with their large close-knit family, bestselling authors and cousins Jillian Harris and Tori Wesszer share an all-new collection of favourite recipes straight from the heart of their bustling kitchens. Featuring over 135 everyday recipes along with some beloved classics that have a modern, healthyish, often plant-forward twist, inspired by the smart hacks their moms and granny used to whip up memorable, easy-to-make meals.

Fraiche Food, Fuller Hearts is filled with simple, feel-good recipes that focus on fresh, whole foods for you and your loved ones to enjoy any day of the week. The book is plant-forward with ways to adapt recipes for vegan versions wherever possible like Baked Crispy Cauliflower Sandwiches, Vegan Mac and Cheese, and Tropical Tofu Bowls. All the recipes are family-friendly and perfect for weekday or casual weekend meals including Sheet-Pan Breakfast Pizza, Fish Tacos, and Butternut Squash Gyros. And sure to please everyone, you'll find plenty of heart-warming recipes including cozy soups, one pot/pan meals, easy-to-make breads from Granny's Cinnamon Buns to No-Knead Bread, and flavourful, rustic desserts from Lazy Daisy Cake to Baked Apples with Oat Crumble.